There was a recent magazine article that I just read (perhaps in Vanity Fair) that referenced the recent trend in television series about the über rich (refer to The White Lotus, Succession, etc.)   That got me to thinking about Glass Onion.   I mean, who has that kind of friend with that kind of money?   (We certainly do not.)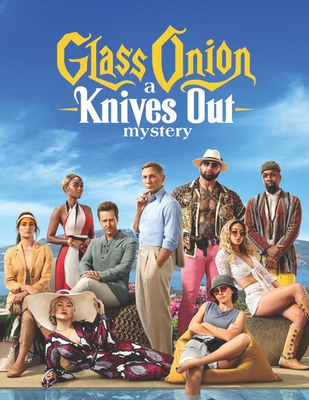 For a quick plot summary, Miles Bron (Edward Norton), a zillionaire, invites his "friends" to his remote private island as a respite from COVID and quarantines.   All of his guests have some history with Bron and the beginning of his tech company.   Old friends are reunited.   But, there's a outlier in the bunch, Benoit Blanc (Daniel Craig).   No one is really sure why he's been invited, including Blanc and Bron.   As to be expected with any deserted island setting, there's  a murder.   Ironically, however, Bron invited this cast of characters to his island to solve a "fake" murder, just for fun.   
If you haven't seen Glass Onion, make sure that you watch Knives Out first or you might think Benoit Blanc is a bit odd.   (And he is odd, but it might explain a bit about the character.)  The old Food 'n Flix club hosted Knives Out in 2020.  You can read my post here.
Obviously, Glass Onion is the July feature film for Movies & Munchies. 
Caveat:   I was going to try to re-watch this film but I had a vacation plus a business trip during the month of July so I'm just working from memory but I do love this franchise.
I originally wanted to make bacon jam with an onion base, but then I thought about just straight up onion jam.  Which is better, bacon jam or onion jam?  Now there's a conundrum.  Could Blanc muse on that for a couple of scenes?  Certainly.  (Remember his donut analogy from Knives Out?)
Caramelized Onion-Bourbon Jam

Savory with just a hint of sweet.  I tweaked the instructions and times a bit.  Original recipe found here.

Ingredients

3 T. butter
2 lbs. Vidalia onions
1  tablespoon fresh thyme, leaves only
2 T. balsamic vinegar
1 c. dark brown sugar
1 orange (1 inch zest only)
1/2 c. bourbon
1/4 t. Kosher salt

Instructions

Chop onions; remove thyme leaves from stem. Peel a 1-inch piece of orange skin (no white).
Melt butter in a medium-sized sauce pan.  Add onions and thyme.   Cook and stir 15-20 minutes or until the onions are beginning to caramelize.  Add brown sugar and balsamic and cook another 5 minutes, stirring often.
Add the remaining ingredients into the pan and bring the mixture to a boil. Reduce heat and simmer until a thick syrup forms (it should coat the back of a spoon), about 30-40 minutes.  (Watch carefully and stir occasionally.)
Remove pan from the heat and allow to cool to room temperature.  Serve.  Store leftovers    in refrigerator in a sealable container or glass jar with lid.

Yield: 6 servings
This concoction can be served atop a burger or brat, along side cheese and charcuterie…
or just slathered on a cracker smeared with goat cheese.
Culinary Cam is hosting Movies & Munchies this month.    You can read her announcement post here.    It's actually a double feature this month; you can choose either Knives Out movies.