(500) Days of  Summer — 2009
Starring Joseph Gordon-Levitt and Zooey Deschanel

Movies & Munchies

February feature

Boy meets girl…. BUT it's not a love story.  As Summer (Deschanel) says, "Loneliness is underrated."

With an opening like this, I really didn't know what to expect from (500) Days of Summer.  It did not suggest the typical rom-com.  
And, that was fine by me.  I was totally surprised by this clever, funny yet poignant little film.
Amy is hosting this month for Movies & Munchies and she provided the caveat that this wasn't a foodie movie and to default to a romantic Valentine's recipe if needed.   (You can see her announcement post here.)
One of the first foods that was featured two times (on the screen and later in a flashback comment) was pancakes.  I had just made some pancakes from the yellow Gourmet cookbook that were delicious ("Ruth's Pancakes") but I then saw that a lot of the early posters had already featured pancakes.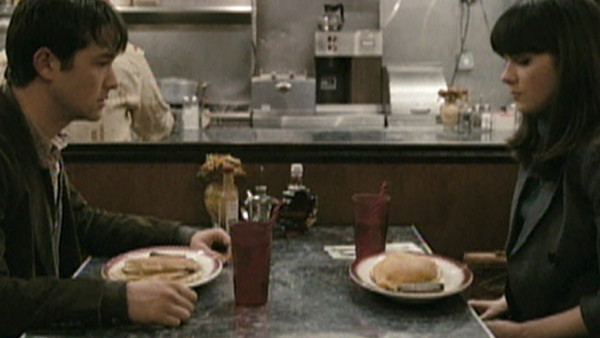 So, I revisited the list I made as I watched the movie.
Vodka
Pancakes and sausage— "I love these pancakes."
Ice cream and malts (from Summer's early teenage job)
Chocolate engagement cake and champagne
Coffee (sipped by the Criminal Minds guy)
Shots  and beers at karaoke bar
Ikea
Granny smith apple (on bowler à la Magritte) in Summer's apartment
Martini with lemon twist
Pepsi and popcorn at movies
Coffee on the train
Shots at the wedding
Tequila with a lime squeeze or gin & tonic at the fateful rooftop party
Twinkie wrappers (by alarm clock), Day 441
Orange juice, whisky and  more Twinkies
(There was also some sort of a bar or slice of cake at the coffee shop, but I couldn't distinguish what it was.)
You might be wondering why Ikea is in this food list.  In one scene (that becomes a running gag), Summer and Tom wander through Ikea visiting the different vignettes as if it were their home.   "The faucet doesn't work in this kitchen either," Summer proclaims.  Tom later notices that there is a family watching them from "their" bathroom as the cavort on a display bed.
What's the most beloved dish from the Ikea food court?  Swedish meatballs of course.  The original recipe can be found here.    I took a few cues from that one but also defaulted to my mom's recipe.
Swedish Meatballs

Mom (with a bit of inspiration here)  The meatball recipe is mom's.  I tweaked the sauce a bit.

Ingredients

1 lb.  ground beef
l egg
1/2 t. pepper
1/2 t. salt
1/2 c. bread crumbs (can substitute panko or cracker crumbs)
Dash of nutmeg
olive oil

5 T. butter

1/3 c. all-purpose flour

1 1/4 c. beef broth

3/4 c. half and half

2 t. soy sauce

1 t. Dijon mustard

Instructions

Mix  the ground beef, egg, pepper, salt, bread crumbs and nutmeg.  Form into 2 inch balls. Heat a drizzle of olive oil in a large oven-proof skillet and brown meatballs on all sides.   Remove meatballs to a plate.  Do not wipe out skillet.
Melt butter in skillet.  Add the flour and stir it into the butter until a roux forms. Continue to cook for about 2 minutes, stirring constantly.  Slowly add the broth, stirring until just combined.  Add the half and half, soy sauce and mustard and stir to combine. Bring the mixture to a simmer, then turn the heat to low and let the sauce thicken, stirring occasionally to prevent sticking, 1 to 2 minutes.  (If sauce is too thick, add a bit of water to thin.)
Return the meatballs to the skillet.   Cover the skillet with a lid or foil, and transfer the skillet to the oven. Bake for 30 minutes, until the meatballs are cooked through.

Yield: 4-6
You can serve these over whatever starch you like (mashed potatoes, noodles, or polenta).  Mom has always served her Swedish Meatballs over rice so that's how we're serving it up.
I enjoyed making these and even with the changes to the sauce recipe, they still tasted like home.
Join Movies & Munchies in March.   I believe the feature is going to be Hidden Figures.