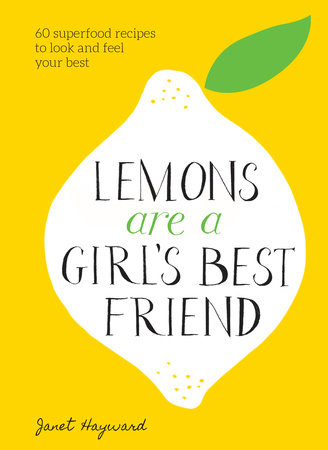 What a cute little book.  Literally, it fits in the palm of your hand, such a petite book to house such a plethora of information.   Who knew there were so many "super foods"?
Hayward creates the antithesis of a coffee table book in Lemons are a Girl's Best Friend.   This little book packs a big punch.   She picks out sixty of the best super foods and creates two recipes each—one for the inside (yum) and one for the outside (aahhh!).
For the title's namesake, she presents a "Lemon and Parsley Lentil Salad" for the inside and states "Eat this refreshing, alkalizing and cleansing salad for an all-over body glow."   As a companion recipe, she offers a "Lemon and Honey Facial Mask" for the outside to "Revive dry skin."
Seriously good stuff here.  I don't know which recipes that I'm more excited about, the outside or inside ones. The "inside" recipes include lots of salads but there's is at least one cookie recipe.  The "outside" recipes are obviously beauty and skin care oriented:  "Honey and Papaya Treatment for Hands and Feet," "Black Grape Toner," "Blueberry Exfoliator," and "Fennel Seed Eye Comfort."
Hayward covers all the "regular" super foods like goji berries, pomegranates, almonds, honey, and chia seeds.  She also includes some pedestrian foods like cucumbers, cinnamon, coconuts and oats to praise their restorative powers.
I decided to try out one of her smoothie recipes to get my insides happy.
Almond Breakfast Smoothie

Janet Hayward in Lemons are a Girl's Best Friend

Thick and creamy…adjust with what frozen fruit you have on hand.

Ingredients

1 c. almond milk (I used unsweetened vanilla flavored.)
1 banana
1 c. frozen raspberries (I used strawberries.)
1 T. almond butter
1 t. honey
1 T. rolled oats
ground cinnamon

Instructions

Place all the ingredients except the cinnamon in the blender and pulse to puree to a smooth consistency. (Hayward says to "blitz.")
Pour into a glass and dust the top with cinnamon.
Serve immediately.

Yield: 1 large serving
It had been a while since I'd had the time in the morning to whip up a smoothie.    Hayward's version is creamy and delicious.  The almond butter and the oats just add a little something to the texture.   It is also a pretty versatile recipe.  I did not have frozen raspberries but did have strawberries.   I think it would also be interesting with frozen mango.  (Strawberries and mangoes are listed in this book with the other super foods.)
The illustrations are adorable as well and continue that 60s almost early Andy Warhol vibe set forth with the cover.   I couldn't help but smile when I got this little gem in the mail from Blogging for Books.
(I want to mod this recipe a bit and do a PBJ twist on the recipe—swapping in peanut butter for the almond butter.)
I received a complimentary copy of this book from Blogging for Books for this review.  All opinions, exclamations, gushings and rants are my own.  For my other Blogging for Books reviews, click here.
I'm linking up with Novel Food (hosted by CTB co-host Simona)
and
March's Foodies Read.