I don't know how dedicated I will be at posting on Top Ten Tuesdays, but I am giving it a shot the past two weeks.  Top Ten Tuesday is hosted by That Artsy Reader Girl.  Each week a theme is presented and this week it is authors that make us smile.   (We all need something to smile about right now.)  You might notice some repeats from my "authors I read the most list" from last week.
This list is in no particular order.
David Sedaris—anything
This list is in no particular order except for Sedaris.  He is numero uno.  I am sure it says something about me that I am such a Sedaris fan.  (I acknowledge he is not everyone's cup of tea.)    If you are a Sedaris virgin, then you must, must, must, MUST  listen to  Santaland Diaries, his piece he did for NPR way back in 1992.  It will make you smile (even though it is July.)  Sometimes I will just think of him singing "Away in a Manger" like Billie Holiday and start cracking up.  
Sedaris was also in my Most Read Authors Top Ten.
Bailey White—anything
In retrospect, White could have been on my "most read" list.  Unless she's published something recently, I've read everything she's written.  I recently picked up Sleeping at the Starlight Motel again after many years.   It's still as smile-worthy as I remember.  (I was first introduced to White from her commentary on NPR.)   All of her works are nostalgic, warm, wry and humorous.   (There is also an audio book of her NPR stories.  If you have Audible Audio, download Among the Mushrooms so you can hear her distinct voice.)
I'm not sure how I found Norman.  I think it was through a free book on Kindle app.   We're All Damaged (his second book) remains my favorite.  Domestic Violets will leave some ear worms with you for a day or two.  I just saw Norman has a new novel out, Last Couple Standing.   I think those of us who came of age in the mid 80s and early 90s will get all of the pop culture references which just add to the humorous quality of Norman's writing.  (Check out my review of We're All Damaged.)
Speaking of the 80s and 90s and pop culture references, how many of you remember the name Dave Holmes?  Raise your hands.
No?   Dave was the absolute first-runner up on MTV's first Wanna Be a VJ contest in 1998.
His book, Party of One:  A Memoir in 21 Songs, had me rolling (and remembering).  I could easily identify and remember each song and all of the following pop culture high points of the 80s and early 90s:
The United Colors of Benetton
Sea Breeze
Melrose Place
Friday Night Videos (Cable was not even an option for me in the mid-80s.)
answering machines
Drakkar Noir
If you're of this "certain age," you will totally get Party of One.
Holmes does veer off the funny train a bit in the final part of the book.  I also found some of Holmes' escapades a bit suspect toward the end of the book.
Joanna Howard—Rerun Era
Rerun Era is another book I picked up because Howard grew up in northeastern Oklahoma and I heard an interview with her on or local NPR station.  (Do you see a theme here for my reading inspiration?) Howard's memoir depicts a certain time, growing up in a certain rural place, watching certain vitally significant television.
I hesitated a bit before including this book here because it is not a rollicking laugh-fest and her memoir depicts some less than ideal family dynamics.  If you, too, were developmentally changed by M*A*S*H and Hee Haw growing up, then Rerun Era will make you smile.    (Be aware that the narration of this memoir is told in a 5-year-old's style of long run-on sentences interspersed with short, terse, child-like observations.)
I love reading memoirs.   Dumas' book is funny, but it is also bittersweet as she and her family try to continue their life in America during the fall of the Shah and the Iran hostage situation.   She found humor in what I imagine were some dark days for her family.
But, if you can't laugh at yourself (and your family), who can you laugh at?  Her first name caused her many problems in America and she was even once referred to as "Fritzy DumbAss."
As you can imagine, some of the humor comes from language and cultural challenges.   This is especially true with her father, who prides himself on being an American expert but sometimes has some issues with the language.
Asking my father to ask the waitress the definition of "sloppy Joe" or "Tater Tots" was no problem.  His translations, however were highly suspect.   Waitresses would spend several minutes responding to my father's questions, and these responses, in turn, would be translated as "She doesn't know."   Thanks to my father's translations, we stayed away from hot dogs, catfish, and hush puppies, and no amount of caviar in the sea would have convinced us to try mud pie.  (8)
You can read my review of Unbound here along with some laugh-worthy escapades in this tale of self-discovery.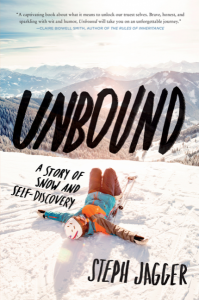 Although I was a fan of Wild and Eat, Pray, Love (to which this book is compared), I am not a fan of self-help, self-discovery mumbo-jumbo.   Although Jagger does delve into hallucinogenic dreams, listening to her inner voice, vagina worshiping and some gong cleansing, this is not one of those books.  Jagger's quest of self-discovery is balanced with her sense of self-deprecating humor. I could forgive her a bit of "mumbo-jumbo" because I was laughing so hard.
Eloisa James—Paris in Love
Paris in Love is a compilation of loosely drawn essays interspersed with daily observations and anecdotes (mostly from and about James' young daughter) as James and her husband take sabbaticals from their professorships and move the family to Paris for a year.
I found that I enjoyed James' jumps from blatantly honest humor to a more poetic language and from her essays on adapting to Parisian life (without speaking the language) to her family observations.
Ann Rickard—Not Another Book About Italy
I really think that I found this book as a free Kindle offering.  These, I'm sure you know, can sometimes be dismal.   Not Another Book About Italy is not one of them.  Rickard is a travel writer (and blogger) from Australia. She also writes from that "certain age" perspective.  Why did I include that last comment? Because as Rickard and her husband trek through Italy, she is often commenting about her age and body type in a self-deprecating humorous way.
Although Rickard loves Italy and makes the most of her time there (eating and drinking and sight-seeing), this is not one of those books in the genre of Under the Tuscan Sun or Peter Mayle's A Good Year (even though I know the latter is about Provence).  Rickard's is more of a practical and realistic tale of two people enjoying themselves in Italy.   I found myself truly laughing out loud.
Rickard passed away last January.  I recently found links to some of her travel columns—also hilarious.
Natalie Kosser—Pattern Behavior: The Seamy Side of Fashion
This book is hilarious. It pairs  kitschy vintage pattern pictures with Kosser's snarky commentary.
I am pretty positive my mom made this for my dad back in the day:
I am positive she made this outfit for herself.
If you're into vintage and retro and you like to laugh, pick this one up.
Reese Witherspoon—Whiskey in a Teacup
Witherspoon is just cute and she always makes me smile.  I friend gave me Whiskey in a Teacup for Christmas a couple of years ago.  You can't help but smile as you read through her  tutorials on throwing the perfect dinner party and hot rolling your hair.   Reese also has a chapter about "The Perfect Book Club" (Chapter 13).  She lists her own "Must Read Books by Southern Authors" that includes the mainstays:  Harper Lee, Eudora Welty, Carson McCullers, Flannery O'Conner, Walker Percy, Cormac McCarthy, and William Faulkner.  She also includes the more contemporary Maya Angelou, Donna Tartt, Jesmyn Ward, Walker Percy, Ricky Bragg, and Julia Reed.  Any of these authors would be fantastic for a book club.  Reese also inserts an homage to her favorite English teacher in this chapter.   It is smile-worthy.  
For a recipe from this book, click here.  Whiskey in a Teacup is more than a cookbook.
To close, I want to add the following "inspirational" author.
Nadia Bolz-Weber
What image do you have when you think of a man of the cloth?  Is it a heavily tattooed, pierced woman? One who has no issues telling it like it is, even if it takes using the F-word?
Bolz-Weber shows an honest voice, so honest she depicts her life in unflinchingly black and white terms. Nothing is left out.  Some may be taken aback by the brutally honest language of this ordained Lutheran minister.  She is just keeping it real and honest.
As a person who is a lapsed Methodist, I have to say that Bolz-Weber may have brought me back to some semblance of faith.  Her works (Pastrix: The Cranky, Beautiful Faith of a Sinner & Saint and Accidental Saints: Finding God in All the Wrong People), while not necessarily laugh-worthy, are refreshing and uplifting—something we all need right about now.
Join TTT next week for Book Events/Festivals I'd Love to Go to Someday (real or imagined).  This might take some thought on my part.