Welcome to my post for the April/May edition of Cooks the Books.
I'm hosting and you can read the announcement post here.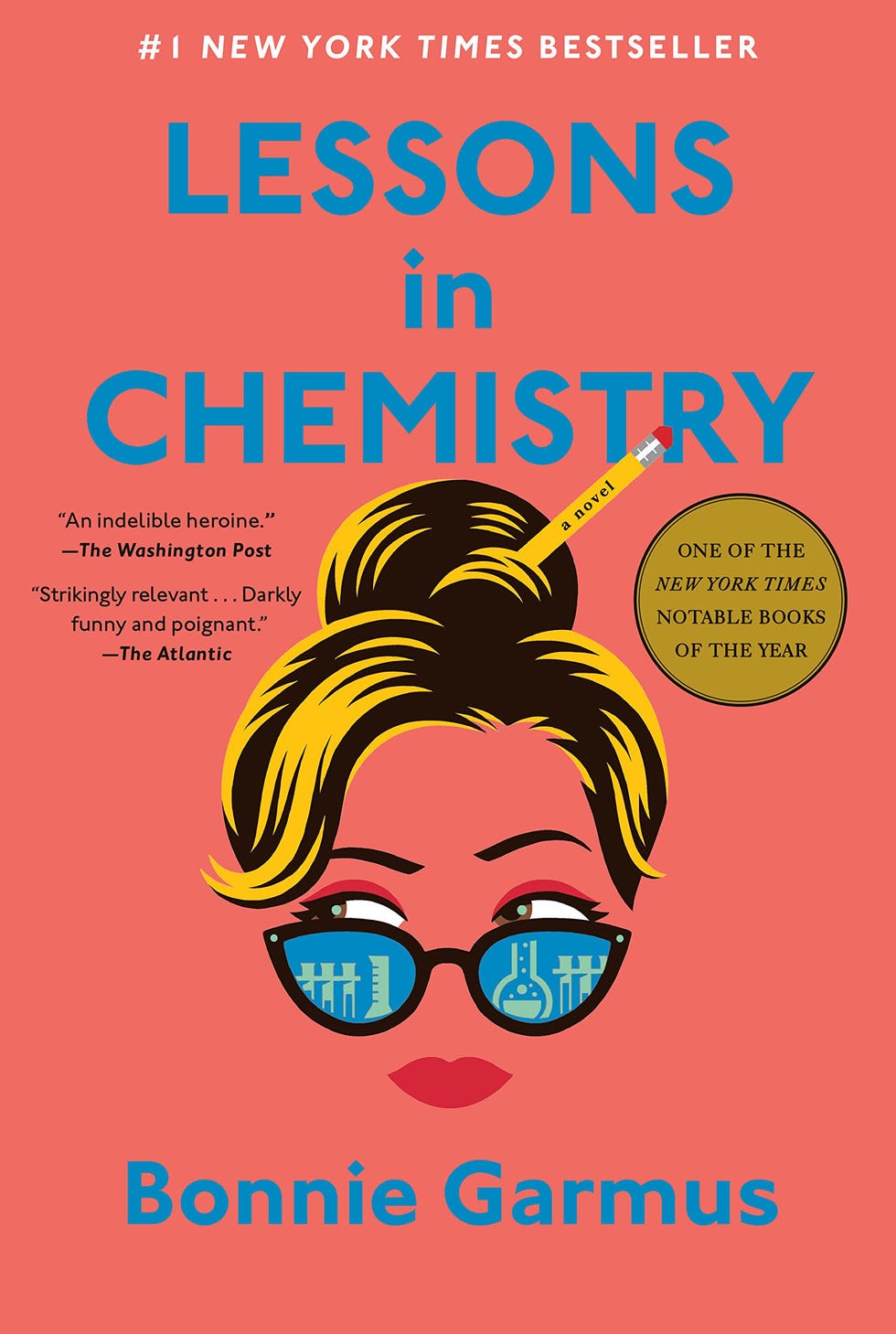 About the book:
Chemist Elizabeth Zott is not your average woman. In fact, Elizabeth Zott would be the first to point out that there is no such thing as an average woman. But it's the early 1960s and her all-male team at Hastings Research Institute takes a very unscientific view of equality. Except for one: Calvin Evans; the lonely, brilliant, Nobel–prize nominated grudge-holder who falls in love with—of all things—her mind. True chemistry results.
But like science, life is unpredictable. Which is why a few years later Elizabeth Zott finds herself not only a single mother, but the reluctant star of America's most beloved cooking show Supper at Six. Elizabeth's unusual approach to cooking ("combine one tablespoon acetic acid with a pinch of sodium chloride") proves revolutionary. But as her following grows, not everyone is happy. Because as it turns out, Elizabeth Zott isn't just teaching women to cook. She's daring them to change the status quo.
Laugh-out-loud funny, shrewdly observant, and studded with a dazzling cast of supporting characters, Lessons in Chemistry is as original and vibrant as its protagonist.
About the author:
Bonnie Garmus is a copywriter and creative director who has worked for a wide range of clients, in the US and abroad, focusing primarily on technology, medicine, and education. She's an open water swimmer, a rower, and mother to two pretty amazing daughters. Most recently from Seattle, she currently lives in London with her husband and her dog, 99.
What I thought…
I picked Lessons in Chemistry for Cook the Books because I thought it would be food-centric.  While there is food mentioned (I mean, the main character hosts a cooking show), it's totally not what I expected.
Page one opens with notes from a wise mom.  Zott sticks in little aphorisms into her five-year-old's lunch, things like "Play sports at recess but do not automatically let the boys win" and truth-telling (but I don't know how wise it is for to teach a five-year-old):   "It is not your imagination, most people are awful."  Her daughter's lunches become legendary.  They're packed with lasagna, zucchini, kiwi, cherry tomatoes, chocolate chip cookies and milk.   These delicious lunch box meals cause her classmate to trade up, leading to the meeting of Zott and Mason Pine, the TV producer.
Zott has two important friendships in the novel (besides the love of her life Calvin):  Harriett, her next door neighbor, and Pine.  These  friendships are of "the kind that arises when a wronged person meets someone who as been similarly wronged and discovers that while it may be the only thing they share, it is more than enough" (212).
This is a rambling tale about love, loss, death, extreme sexism, female empowerment, single motherhood, geniuses, the power of friendship, second (and third) chances, and dog love. I know that sounds like a lot, but Garmus makes it work. I'm not sure another author could have tackled the issues, created the quirky characters, AND have it all come together in a totally readable tale. You have no idea where the story is going but when you get to the end, you say, "Yes.  I see. That worked."
I totally recommend this book, foodie or no.  Garmus nails it.
The food:
"Cooking is serious science.  In fact, it's chemistry."(45)
If there's a central theme to the book, it's the above quote.  Zott is a great cook but she's probably a better chemist (which makes her a hell of a scientist).   Here's the food (and formulas) that I spotted in the book.
Hearty stews and casseroles (7)
Flammable pistachios (37)
Cafeteria stroganoff opposed to homemade chicken parmesan, au gratin potatoes, and salad (42)
Scientific better biscuit recipe (59)
Centrifuged coffee (143)
Mud Pies 3.1415 (167)
Extra dry martini (172)
Baked spaghetti Bolognese (189)
Vinegar CH3COOH (221)
Spinach Casserole, Chicken Pot Pie, Mushroom-Broccoli Casserole (pp 222 through 289, I lost track and got too involved in the story).
Steak with Rosemary (290)
Cinnamaldehyde cookies (325)
Eggplant and Brownies (338)
I went with CH3COOH.
For the past five or so years, my sister and I have been trading vinegars for the holidays.  She makes her own malt vinegar and infuses vinegar with chive blossoms for me.  (The chive vinegar is a lovely pink color.)   I trade her with tarragon infused vinegar.   Then, one year I went crazy and made a bunch of different infusions based on a recipe I clipped from Mother Earth Living.    You can find the basic instructions here with some variations.  I'm including my version of a Spicy Italian Vinegar for you today.
Spicy Italian Vinegar

Debra, based on "How to Make Infused Vinegar" from Mother Earth Living

Play around with the fresh herbs in your garden.

Ingredients

A scant 4 cups of white vinegar
2 sprigs of Italian parsley
2 sprigs of basil
2 stems of thyme
2 stems of oregano
1 small stem of rosemary (about 2 inches)
2 garlic cloves, smashed
1 t. red pepper flakes

Instructions

Sterilize a quart jar and lid in boiling water.
Make sure herbs are clean and well rinsed and dried.
Heat vinegar in a saucepan to just below 160 degrees Fahrenheit. Turn off heat.
Remove jar from the water and drain it. Pack herbs, garlic, and pepper flakes into the hot jar. Pour in hot vinegar, leaving one-quarter-inch headspace. Place a small piece of  plastic wrap over the top, then screw on the lid. (The plastic wrap ensures the vinegar doesn't touch the metal and corrode it.)
Store the jar at room temperature for up to a month. You may open the vinegar to test it periodically. When you like the flavor, strain out the infusion ingredients.  Write the start date on the lid so you can keep track.
You can store the infused vinegar in the same canning jar, but, ideally, vinegar should be stored in a narrow-neck bottle with a tight seal to prevent oxidation.
If you plan to use the vinegar within a couple of months, you may add a fresh sprig of one of the herbs you used to the bottle as decoration.

Yield: 1 quart
For storing, think about bottles you can re-use.   I've used everything from tequila and vodka bottles to lemonade bottles.    I usually discard the herbs but it's nice if gift giving to add a fresh sprig.  Just include a note with an expiration date of one month
I've also made this same recipe using apple cider vinegar.   While the original recipe calls for white wine vinegar, I found that too expensive when making large quantities.  If you wanted to try that, I would pare this down.
Get creative with your herbs.  Last summer I made two super delicious spicy basil infusions using apple cider vinegar and white vinegar.
I am sure Zott would have created her own CH3COOH in her lab.   I did not aspire to such greatness.   (I have, however, made my own apple cider vinegar with apple peelings, water, and a bit of sugar.  I though I had posted that DIY project but I couldn't find it on the blog.)
But, infused vinegars make the best vinaigrettes and drizzles and it is super easy.  I hope you try it!
When I picked this book, I had no idea that it was being considered for a series on Apple TV Plus.  Apparently we can see Brie Larson as Zott this fall!
Look for a round-up of recipes inspired by Lesssons in Chemistry at Cook the Books soon.  Consider joining our merry band of foodie readers for the next selection:   Food Americana by David Page (May 2021).   Simona (briciole) is hosting.  I started this book last night and am loving it.   I've gotten through the pizza, Mexican and BBQ sections.   Please pick it up and join us!
I'm linking up with Foodie's Read.