First of all, I cannot believe it is August 20.   Where did the summer go?
Secondly, I cannot believe it is time for a Secret Recipe Club reveal!
But, today is the day and are you in for a treat…..
Without further adieu, I would like to introduce you to Kate at A Spoonful of Thyme.  There's some truly delicious food there;  please check out Kate's site.    Her most recent posts include Heirloom Tomato Marmalade, Tagliatelle with Fresh Corn Pesto,  and Bluebarb Pie.
All of these recipes are fresh and delicious sounding and would truly be worthy of a fresh and delicious SRC post.
But what did I have in my own garden to use?
Pumpkin?  Check, but pumpkin reminds me too much of fall and I wanted to highlight a summery tasting recipe.   (Please feel free to check out Kathy's Jeweled Pumpkin Rice.  Sounds delicious!)
Okra?  Yes, but I couldn't find an okra recipe in my search of her site.
Peppers?  I was tempted to make Black Bean and Corn Salsa with Jalapenos.
Watermelon?
That's it.
I would use part of my lone prized watermelon to make Kate's Minted-Watermelon Granita.
This specimen was a huge surprise to us.   We knew our vine had flowered but we were unaware of this watermelon until it just seemed to appear and be ready to pick.
Kate's oldest daughter created this granita from a  recipe that appeared in Food & Wine (August 2009).    She added the vodka per David Lebovitz's The Perfect Scoop.
Minted-Watermelon Granita
slightly adapted from A Spoonful of Thyme

1 1/2 pounds seedless watermelon without the rind, cut into 1-inch dice (about 4 cups)
2 T. agave nectar
juice of one lime
Pinch of salt
1 T. vodka
1 T.  lime zest
1/4 c. mint leaves, minced

Puree first five ingredients in a blender until smooth.  Stir in the zest and mint.   Pour the puree into an ice cream maker and freeze according to manufacturer's directions.
Now,  here is the beautiful part:
Continue to freeze for a granita treat.
Or, when the mixture becomes "slushy," pour it into glasses for a refreshing adult-type beverage.
Or, leave out the alcohol and pour the mixture into popsicle molds and freeze for the kids.
This is a truly versatile recipe.    I really hope you peruse Kate's site.     She has some fantastic posts.
A big thank you to everyone that makes SRC possible:
I hope there are more granitas and watermelon recipes in our future.   (Notice I didn't do anything hokey here like create a "Wow-Wow Watermelon" series or another "palooza"!)  We do have a few more baby melons in the garden that I hope to keep the critters away from.
Please browse through the rest of the reveals today!
I am also going to use this for Fresh Food Blog Hop today!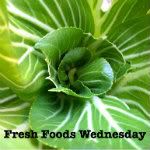 For my previous SRC posts, click here.